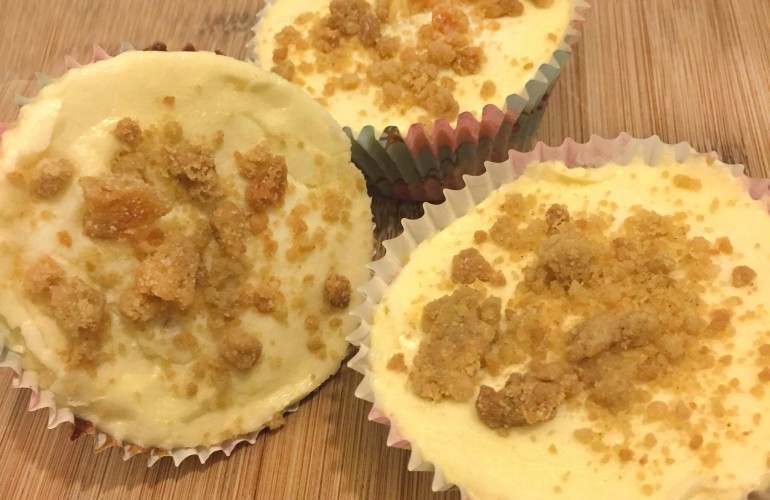 Apple Crumble and Custard Cupcakes
It's national cupcake week! So if the return of Great British Bake Off wasn't enough to get you in the mood for baking, our delicious twist on this British classic just might.
These scrummy apple and cinnamon cupcakes are topped with tangy applesauce, custard flavoured frosting and sprinkled with a classic crumble crunch and are the perfect way to get in the mood for autumn.
As they come into season in September, orchards will be filling with crispy, sweet apples. We recommend using bramley apples, but cox or granny smith will work just as well.
Ingredients
Apple Sauce
3 medium apples peeled, cored and diced
3 tbsp of caster sugar
1 tsp of vanilla extract
Zest and juice of 1 lemon
Sponge
140g of plain flour
150g of soft brown sugar
150g of unsalted butter
3 eggs
1 tsp of ground cinnamon
½ tsp of bicarbonate soda
2/3rds of the cooled applesauce mixture
Custard frosting
120g of icing sugar
4 tsp custard powder
2 tbsp of hot water
1 tsp of vanilla extract
80g unsalted butter
Crumble topping
50g of plain flour
50g of soft brown sugar
40g of unsalted butter (cooled)
½ tsp of ground cinnamon
Method
Preheat your oven to 180°c. Place twelve paper cases into a muffin tray and set to the side.
Create the apple sauce first by adding the peeled apples, sugar, vanilla and lemon into a medium sized pan.
Continuing to stir, simmer on a low heat until the apples become mushy and the mixture is combined. To quicken the process use the back of a fork to mash the apples. Set aside to cool.
To create the sponge; cream the softened butter and sugar together with a wooden spoon until light and fluffy. Add the eggs in gradually, stirring each time.
Taking 2/3rds of the bowl of cooled applesauce into a clean bowl and add the bicarbonate soda and stir until well mixed.
Fold the apple mixture and the remaining dry ingredients into the batter, alternating each time.
Spoon the mixture into the paper cases.
Place the tray in the oven and bake for 20-25 minutes, until cakes are well risen and golden brown. Place cakes on a wire rack to cool.
To make the crumble topping place sugar, flour and cinnamon into a bowl and add the cooled butter in small chunks, rubbing the mixture together with your fingers until it resembles fine breadcrumbs.
Spread the crumble on a baking tray and bake for 10-15 minutes until golden brown and crunchy. Set this aside while you make the frosting.
Add softened butter, vanilla extract, custard powder and water into a medium-sized bowl and sieve in icing sugar. Blend mixture until smooth and thick and then place into a piping bag.
Take a cooled cupcake and place a small spoonful of applesauce, pipe frosting around the top of the cake, and finish by sprinkling the crumble mixture onto the top.