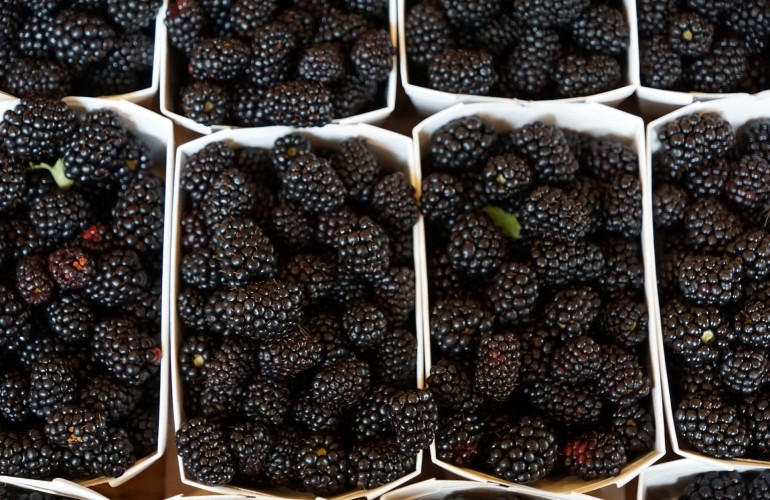 Blackberry picking and ice lollies
Blackberries are in season from the end of July to mid-October, meaning hedges will be brimming with these plump and juicy berries. Blackberry picking is a great activity to do with the kids, so we thought we'd share a recipe that the kids will love, using their hard earned fruit.
Don't forget blackberries freeze well, so you could always stock up and store them in the freezer. What's more, later in the season you could combine them with autumn apples in delicious pies and puddings or with duck for a main course. You can freeze whole in bags or in ice cube trays as puree.
Tips for picking blackberries
The best blackberries will have grown in the direct sunlight, but remember to look in the hard to reach spots that birds can't get to and around knee height; these will have had the most shelter from wildlife and splashing rain.
Remember blackberry juice stains both hands and clothing, and when dealing with thorny bushes it's best to dress for the occasion. We recommend wearing old clothing when picking preferably long sleeved, and giving the children gloves to protect from any nasty scratches or stains!
The perfect berries will be completely black, not purple or red. Unlike many other fruits, blackberries don't ripen further when picked from the bush. The best blackberries will come away from the bush with a little, light tug.
Blackberry ice lolly recipe
Ingredients
500g of blackberries
400ml of water
15ml of lime juice
15ml of apple juice (you could use any kind of fruit juice, but this is our favourite)
1 tablespoon of caster sugar
Method
Add all of the ingredients into a sauce pan and cook on a low heat until the berries are soft
Remove the mixture from the heat and pass through a sieve to discard any pips or nasty bits
Allow to cool and pour into a six hole lolly mould, pop in the freezer for 7-8 hours or until frozen solid
For a little twist: before pouring the mixture into the mould, separate the mix into halves and add five or six tablespoons of Greek yogurt into one. Pour alternately into the lolly moulds to create a purple stripy treat that the kids will love!