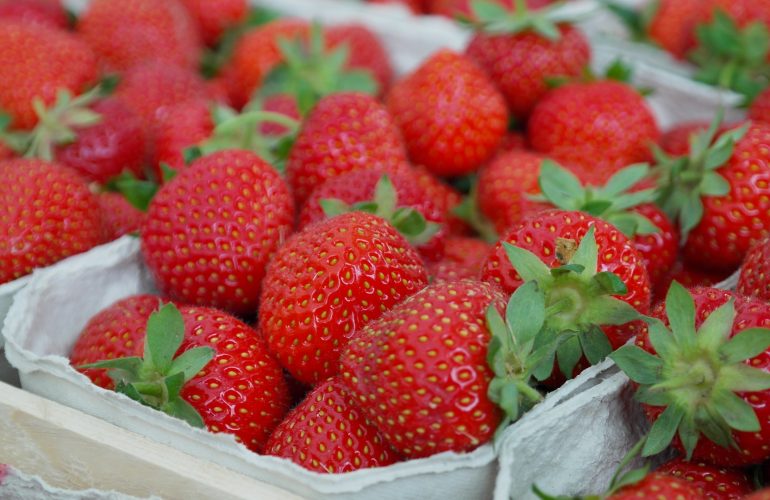 Celebrate British berries with our strawberry cheesecake
It's that time of year again; Wimbledon has started and British berries are back on supermarket shelves. If you do have time though, we would recommend you visit your local 'pick your own' fruit farm.  This not only supports local producers, but is a fun way for the whole family to gather the freshest fruit you'll find.
In celebration of this, we thought we'd share this strawberry cheesecake recipe that is a firm favourite for Marcus and his family.
Ingredients
For the base:
250g digestive biscuits crushed
100g unsalted butter
For the filling:
600g full fat soft cheese
85g icing sugar
250ml double cream
1tsp vanilla extract
Zest of half a lemon, finely grated
250g strawberries, hulled and chopped
For the sauce:
250g strawberries, hulled and chopped (save some for decoration)
2tbsp icing sugar
½ lemon zest
2tbsp lemon juice
Method
Place the digestives into a freezer bag and crush into crumbs using a rolling pin.
Melt the butter in a saucepan, when this is completely melted, add the crumbs and stir until all the crumbs are covered.
Take the mixture and cover the bottom of a round cake tin (approx. 23cm diameter), press down firmly until it forms a flat even base layer. Chill in the fridge.
In a large bowl beat together the cream cheese, sugar, vanilla extract and lemon juice until smooth. In a separate bowl whip the double cream until it creates soft peaks, then gently fold the whipped cream in to the cheese mixture. Add the chopped strawberries, folding softly with a spatula.
Cover the biscuit base with the mixture and smooth down lightly, place in the fridge and allow to set, preferably overnight.
To make the sauce, place the strawberries (save some for decoration), sugar, lemon zest and lemon juice into a food processor and blend until smooth.
Take the cheesecake out of the fridge about half an hour before you want to serve it, decorate with the remaining strawberries and serve with the jug of strawberry sauce.