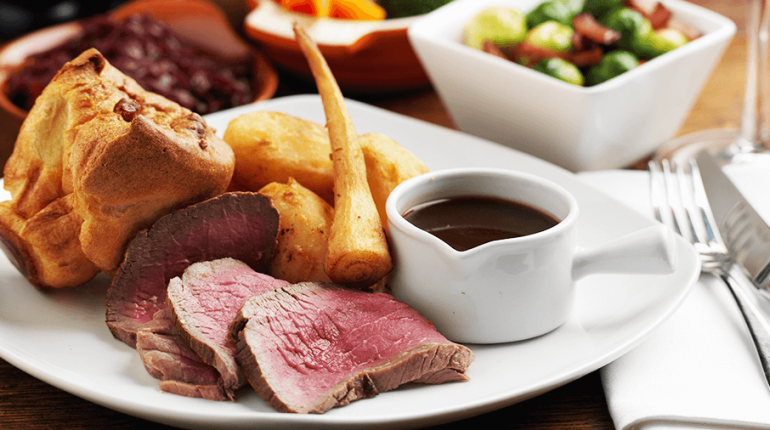 Father's Day – tips for the perfect roast dinner
Father's Day is on the third Sunday of June, this year it will be celebrated on the 19th June. It is a day to honour our fathers, grandfathers and father figures alike. Why not try our tips for the perfect Sunday lunch and cook your Dad a meal to remember this year. Alternatively, if you'd rather leave all the work to us, call us on 01832 280 232 to book a table and your dad will receive a pint of our very own Crown Inn bitter for free.
Tips for a roast beef lunch
Firstly, the beef joint:
Buy the right piece of meat


Rib of beef, a sirloin or fillet work well for a roast, but rib of beef is especially good, as it is cooked on the bone, which makes for a tastier piece of beef.
Make sure your meat is dark in colour


This shows that the meat has been hung well and is mature.
Make sure the meat has a covering of fat


Don't worry, you can remove this before you eat. The layer of fat will help prevent your meat from drying out whilst cooking, but will also add extra flavour.
Cooking times will vary depending on the size of your joint and how pink you like to eat your beef.
When your beef is cooked, don't forget – rest is best! Rest your joint for around 20 minutes after removing from the oven. This allows for the meat fibres to relax and release those tasty meat juices, making your meat nice and tender (but they are also great for the gravy).
Secondly, the roast potatoes, crispy on the outside but soft and fluffy on the inside:
Pick the right potatoes


It is important to pick the right potato, not too starchy and not waxy. Our favourite potatoes to use are Maris Piper.
Par-boiling


Par-boil your potatoes for five minutes, then drain and shake in the pan to fluff them up; this will help them go crispy.
Cook your potatoes


Put your par-boiled potatoes into hot beef dripping or goose fat (if available, or hot vegetable oil if not). Add some rosemary or thyme to give extra flavour and finish with some salt before cooking.
Cooking time will vary depending on your oven, but generally they should take around 45 minutes to one hour. Lots of people cook their potatoes with the meat joint, which does give great flavour, but doing this will make them less crispy.
Thirdly, and my favourite part of a Sunday roast – the Yorkshire puddings.
The oil


Use duck fat or beef dripping for Yorkshire puddings and ensure the oil is warm, but not hot. If the oil is too hot it will burn the outside of the puddings when you first put the batter in.
Make sure your batter is smooth


Making batter is really easy; use equal volumes of milk, egg and flour and make sure you mix it well so that there are no lumps. Let the batter rest at room temperature.
Don't open the oven door


The best time to cook your Yorkshire puddings is after you've taken the meat out to rest. Don't be tempted to open the oven door as the cold air will flatten your puddings.
Last but not least, the vegetables.
Remember, a colourful plate is a tasty plate


A selection of vegetables such as carrots, cabbage, parsnips and turnip (amongst a hoard of others) are perfect to accompany a traditional Sunday roast.
Don't overcook your vegetables


There is nothing worse than grey, mushy, tasteless overcooked vegetables. Always follow preparation and cooking guidelines.
Don't overcrowd your plate


Your meat, potatoes and Yorkshire puddings alongside a good selection of well cooked vegetables provide a fresh, tasty and healthy meal without the stodge!
Don't forget to top it off with a jug of gravy. Add the meat juices to create a rich tasting gravy.
Let us know how you get on; feel free to tag us in your social media posts or email us a photo.