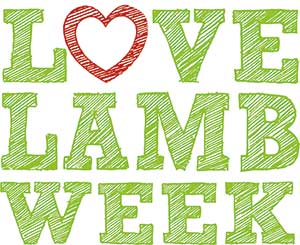 Celebrate Love Lamb Week with Marcus' recipe for herb crusted rack of lamb!
We are celebrating Love Lamb week with one of our favorite lamb dishes! Why not try our recipe for herb crusted rack of lamb with sauté potatoes, broad beans, peas and red wine sauce? We recommend you enjoy with a lovely glass of Chianti.
Ingredients
4 racks of lamb (with 3 ribs a rack), French trimmed
50g fresh white breadcrumb
2 tbsp. parsley, roughly chopped
2 tbsp. thyme, finely chopped
2 tbsp. rosemary, finely chopped
Handful of finely chopped mint
2 tbsp. Dijon mustard
1kg cooked new potatoes, cooled and sliced
4 cloves of garlic, finely chopped
200g peas, cooked and cooled (fresh peas if you can get them)
200g broad beans, cooked and podded
400ml good quality red wine reduced in a pan by half
1 litre of good chicken stock reduced by half
50g butter
Olive oil
Method
Preheat your oven to 200°c (180°c fan).
Put the breadcrumbs into a food processor with the herbs and a touch of olive oil and blitz until fine. Take a tablespoon of the mixture and set aside in a bowl.
Heat a glug of oil in an ovenproof frying pan. Season the lamb, brown it well on all sides and turn off the heat.
Turn the racks of lamb so that they are fat-side up and brush liberally with the mustard. Take the herb breadcrumb from the food processor and roll the fat side of the lamb until there is an even coating.
Drizzle the lamb with a bit more oil and roast for 20 mins until the crust is golden and the lamb is cooked – this will produce lamb that is pink in the middle but cooked all the way through (If you like your lamb rare, roast for 15 minutes; if you like well done, give it 10 minutes more). Put the lamb on a board to rest.
Take the pan that you roasted the lamb in and brush away any breadcrumbs; add another glug of oil, place on a moderate heat.
Add the sliced new potatoes and toss in the oil every 30 to 40 seconds until golden brown. Add the cooked peas and broad beans, chopped garlic and the leftover herb and breadcrumb and carry on with the sauté till the beans and peas are warm.
Take the red wine reduction and bring to the boil, add the reduced chicken stock and reduce by a third until it resembles a syrupy texture.
Place the sauté potatoes, peas and broad beans in the middle of the plate and either carve the rack or leave whole (I prefer to leave it whole) and place on top.
To finish, drizzle the red wine sauce around the outside of the plate and enjoy!