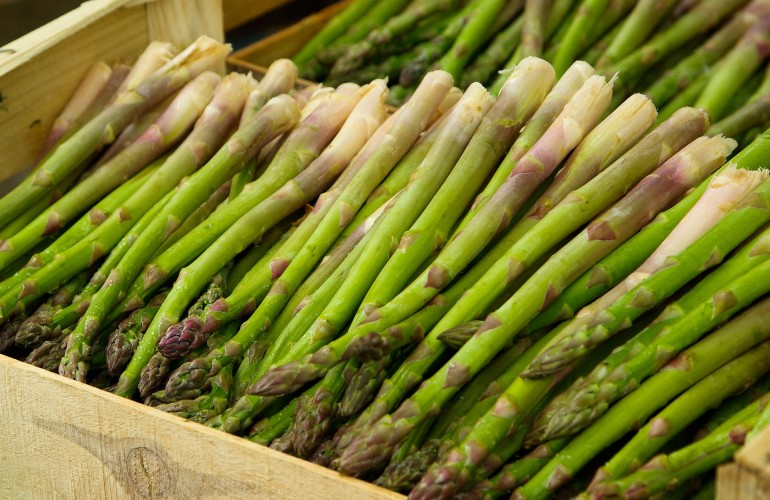 Seasonal food in May
May is a great time of year for fresh and tasty British produce. After the dull colours of our winter comfort food, the vivid greens of asparagus and broad beans move us gently in to the summer months. Also great at this time of year are the new season Jersey Royal potatoes and of course spring lamb. Here, Marcus suggests a quick and easy spring recipe to make the most of the short, but very sweet, British asparagus season.
We hope you enjoy cooking this dish – let us know how you get on!
Warm Jersey Royal and asparagus salad with roast saddle of lamb
(serves 4)
Ingredients
For the salad:
500g Jersey Royal potatoes
200g of asparagus
15g of wild garlic
15g of shallots
A few sprigs of mint
2 tbsp Olive oil
Mint pesto:
1 clove of garlic
25g of pine nuts
25g of fresh grated parmesan
25g of fresh mint
25g of fresh flat leaf parsley
Pinch of salt
125ml extra virgin olive oil
A whole saddle of lamb, boned and rolled, weighing around 900g and cooked to your liking.
Method
Start by cooking your potatoes until tender, I would suggest steaming Jersey Royals, as it will preserve the flavour.
Whilst waiting for these to cook, blanch your asparagus in hot water for two mins after removing the woody ends. We always use as much of the asparagus as possible; cut off the spears and leave whole, whilst chopping the stalks up. Finely dice the shallots and roughly chop the wild garlic and mint.
When cooked, drain your potatoes in to a bowl and mix in the asparagus, wild garlic and shallots. Season and stir through the olive oil, then cover in cling film, so that the warmth of the potatoes slightly heats the salad.
Make the pesto by placing the pine nuts, garlic and salt in a food processor and pulse until roughly chopped. Add the mint, parsley and parmesan and pulse again until smooth. Take this paste out of the food processor and stir in the olive oil to your desired consistency.
Place slices of well-rested saddle of lamb on top of the warm salad with a drizzle of pesto to finish it off.